Pricing
Usage-based pricing plans on shared cloud for businesses of any size!
Power up your plan with Add-Ons
Add-ons for your custom needs, pay only for the features you need. Priced monthly.
UI Builder
UI Builder is a low-code, drag-and-drop interface for building the frontend of your app. Whether your app is mobile, web, or both, you can design for all platforms.
Workflow Builder
Build series of defined tasks to automate your Business Process with record updates, API calls, in-app notifications, approval requests
Sheets
Sheets is an in-built database.
Analytics (App/User)
App and user analytics report.
Custom Functions
Create custom functions for operations that are unique to your use case.
Code Block
Execute custom code to generate desired output.
Control Editor
Develop and use your own UI components across screens & apps.
App Catalogue
Categorize apps into catalogue to determine which user group can access them.
Whitelabel
Get your apps white labelled to reflect your brand.
Custom Domain
Create branded web apps with custom domain/URL.
SSO / AD Integration
Allow users to login with existing credentials. Configure SSO for your apps with your organization's LDAP/SAML.
Permissions (App / Sheet)
Assign users into groups and customise permissions to access interface, sheets and more.
Environments
Dev, beta, prod - environments across app, sheets, users.
Dedicated Support + SLA
We provide guaranteed 3-hour response time under SLA. Valid for our Enterprise-plan customers.
Deployment Options
Choose to deploy apps on-premises or on private virtual clouds. Valid for our Enterprise-plan customers.
Starter
Permissions (App / Sheet)
-
Dedicated Support + SLA
-
Business
Permissions (App / Sheet)
-
Dedicated Support + SLA
-
Enterprise
Permissions (App / Sheet)
✓
Dedicated Support + SLA
✓
Frequently Asked Questions
What is included in the Free Trial?
It includes everything you need to learn how to build and deploy mobile and web applications using DronaHQ. It's hosted in a shared instance of our cloud. There are no hidden costs and a credit card is not required, simply sign-up and get started immediately. It is suited to test the potential of the platform and determine the number of tasks you will require. Storage is limited to 1 GB.
What are Tasks?
All of the following are considered a Task: A workflow task run, a sheet lookup (from UI or Workflow), an API call (from UI), a database query (from UI), a container app open. We do not consider an API call or database query in the workflow as a task as that is already included in the workflow task run. Not consumed tasks are not credited to next month.
What are Add-Ons?
Add-Ons are additional items that customer can buy basis their need. PDF builder, public forms, approval workflows, UX Designer Studio, emails, automations, additional database rows are a part of Add-ons on DronaHQ.
What are connectors?
Connectors in DronaHQ are integrations to back-end services – apps or database to establish connection with a data source. Say Google Sheet is one of your data source and MySQL DB is another data source. Now, if you connect to both of these data sources, you will consume two connectors. Within each connector you can add 'n' number of APIs or DB queries to use in your application.
DronaHQ offer over 50 out-of-the-box connectors to most commonly used apps and databases. The starter plan offers 5 connectors.
Can I have multiple APIs under a single connector?
Yes, you can configure multiple APIs under a single connector to use in your app.
Who owns my data?
You do! It's your data after all! You can export all your information from Sheets at anytime, in any plan. 
DronaHQ is SOC-II and ISO 27001 certified. We ensure that our application is always up to date with the latest security patches. All DronaHQ Studio plans include SSL encryption to keep your data safe. Depending on the user permissions you establish for your account and users, you control who can access your apps, database, APIs so only designated users have access to mission-critical.
What does DronaHQ do?
DronaHQ is a cloud-based low-code app development platform for building forms, processes, applications for mobile & web access. Its drag-and-drop interface enables you to create custom business applications in days rather than weeks, without much IT expertise.
What deployment options do I get for my apps?
All apps built can be instantly deploy on DronaHQ managed cloud. Enterprise plan users can deploy apps on virtual private cloud or on-premises.
What is a published app?
A published app in DronaHQ stands for a micro app that goes into the container app.
You get one Super app (DronaHQ's container app) for Android/iOS/web.  When you login to the super app, you can see all your published micro apps. In the starter plan you can have 10 published apps. The business plan has 20 published apps.
Note: You can white-label only one app i.e. the super app or container app from which you access the micro apps.
Can I setup User groups and permissions?
You can categorize various views of the apps into catalogues like End-Users, Supervisor, Managers, Partners.
You can also define the access permission to the Sheets, Automations, and APIs configured in your account for different user groups.
Can I have user-based pricing?
Yes, you can get user-based pricing under our Enterprise plan. For more information, contact sales.
Can I build a SaaS app on DronaHQ?
Yes, you can build SaaS apps. To know more about our Partner Program, click here.
Trusted By

Enhance business application development
Grab resources to get you started with rapid application development for enterprise.
Tool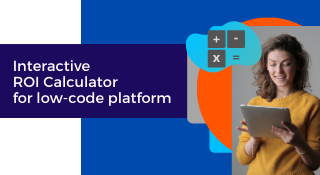 Low-code ROI Calculator
Objectively define the value low-code creates for business.
Guide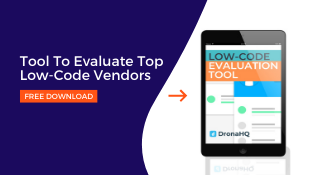 Vendor Evaluation Tool
How enterprise leaders select right top low-code platform vendors?
Live Examples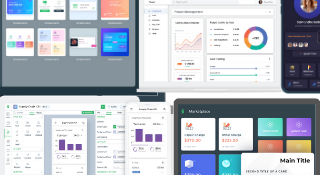 Low-code App examples
Browse a library of interactive apps build on the platform
Unmatched application development platform
Get talking to a DronaHQ representative directly to assist you for your business needs or get customized pricing for enterprises.
Copyright © Deltecs Infotech Pvt Ltd. All Rights Reserved