Blog
Top 7 No-code Podcasts for App Development [2021]
Top 7 No-code Podcasts for App Development [2021]
No-code is here to stay. If you're prepared though, adopting the right technologies could future-proof your business and in fact, put you ahead on the map. If you're interested to learn more about the possibilities no-code and low-code tools create, podcasts are an excellent place to start. Most podcasts offer an interesting peek into no-code/low-code app development stories and how companies have utilized them to come out on top. This is quite convenient as they're often easily accessible from popular music apps like Spotify. Thus, I've curated a list of top podcasters who share their thoughts, tips, and hacks to get started with and excel in the no-code space!
The Visual Developers Podcast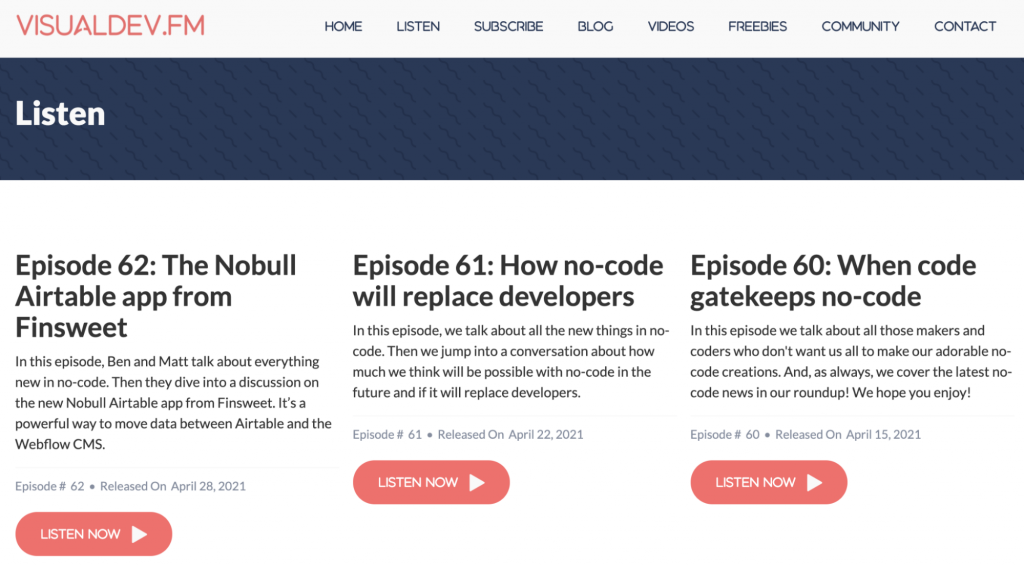 Hosted by: Matt Varughese, Lacey Kesler, and Ben Parker
This should be your go-to place for all things no-code! Their podcasts range from around 45 mins to an hour and consist of tutorials, maker interviews, and much more. Matt, Lacey & Ben are professionals in the field and also share career tips and experiences which makes this series an invaluable learning experience. I especially loved their podcast on will no-code replace developers, and what does the future hold for both no-coders and coders! As it is a common misconception that no-code and low-code platforms are a threat to developers.
The No Code No Problem Podcast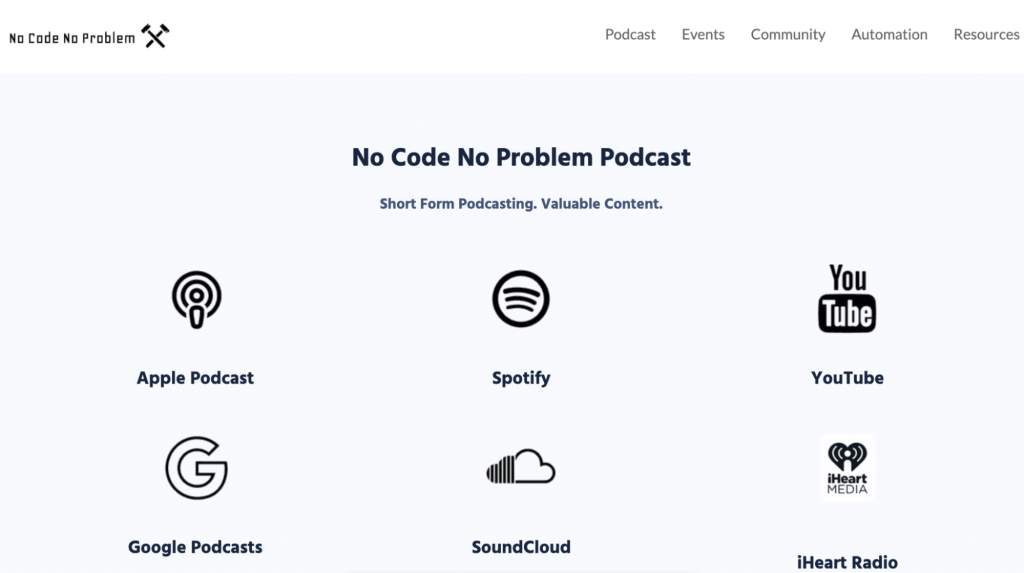 Hosted by: Ryan Myher
If you're a fan of small bite-sized insights, then this podcast is perfect for you! Ryan regularly posts short "5 minute bytes" which feature the latest trends and news in the no-code industry. He also does the occasional 30-minute long episode where he sits down with an industry expert and interviews them about everything ranging from their products, personal lives to their journeys to becoming no-code pioneers. Follow Ryan and his podcast to get your daily dose of #nocode.
The Low Code Ninjas Podcast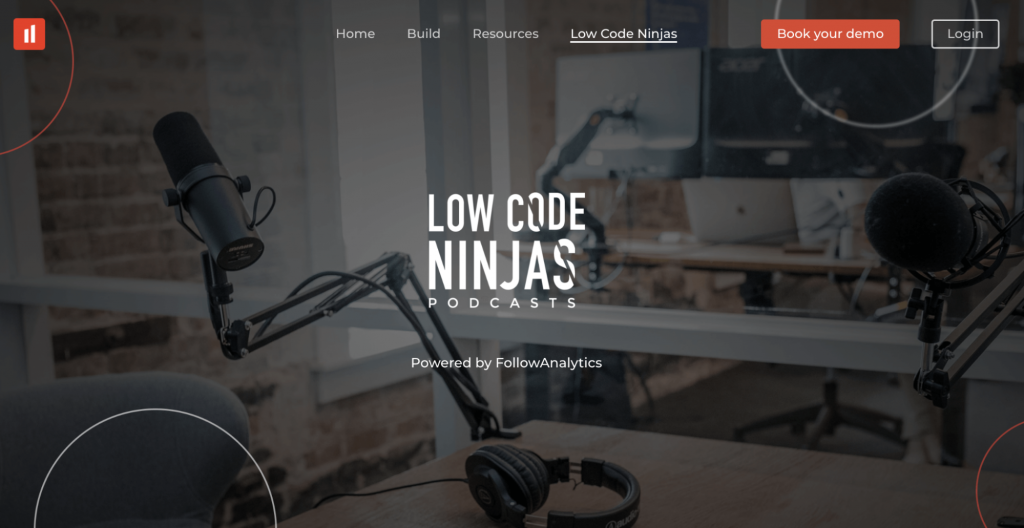 Hosted by: John Koetsier & Peggy Anne Salz
This podcast is all about App Development using the power of low code. Their latest series, Low Code Legends, consists of rapid 5-minute sessions with top people in the low-code industry. I found their podcasts quite useful as a lot of them tackled interesting problems which people face when using low-code tools, like how do you build a full-fledged e-commerce solution, and it even helped me solve some of the problems I faced as a low-code developer. Give them a listen if you want to dive deep into app development!
My NoCode Story Podcast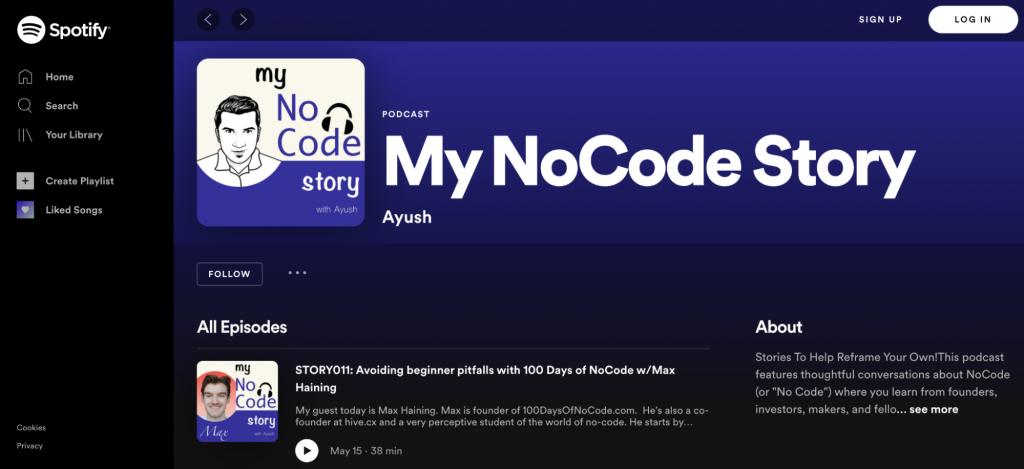 Hosted by: Ayush Sharma
This podcast started on March 13th, and is more of an undiscovered gem! In each episode, Ayush interacts with a guest to share an interesting story on what led them to adopt no-code tools and what hardships they faced along the way. I found these real-life stories of what people went through to be quite inspiring, especially the one where he speaks with Luc Meijer on why he collected over a thousand no-code tools! Follow Ayush & his podcast for a new and inspiring story each week.
The Makerpad Podcast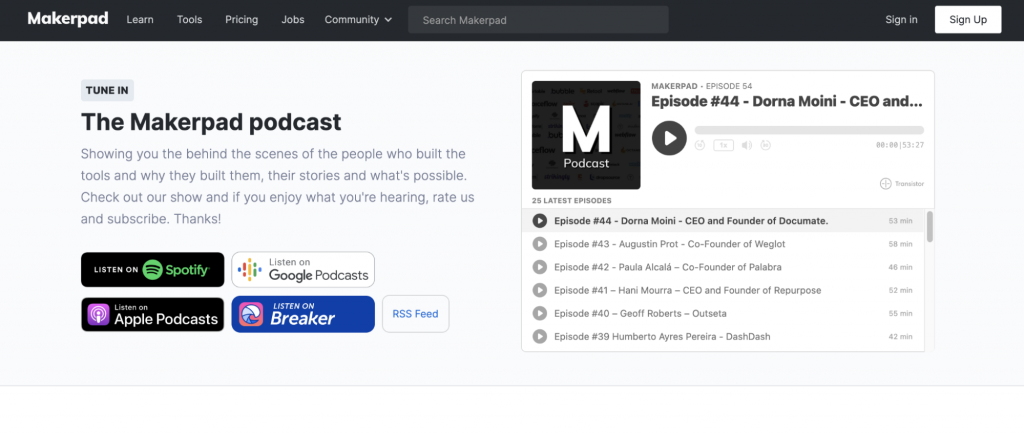 Hosted by: Ben Tossell
Makerpad is a leading no-code community with 10,000+ members and their podcast lives up to their name! Hosted by its founder, Ben Tossell, the podcast gives a behind-the-scenes peek into the lives of no-code leaders and shows us what's possible with the power of no-code. These hourly talks revolve around how companies automate their internal workflows, set up processes, and allow themselves to be more creative at work.
The NoCode Wealth Podcast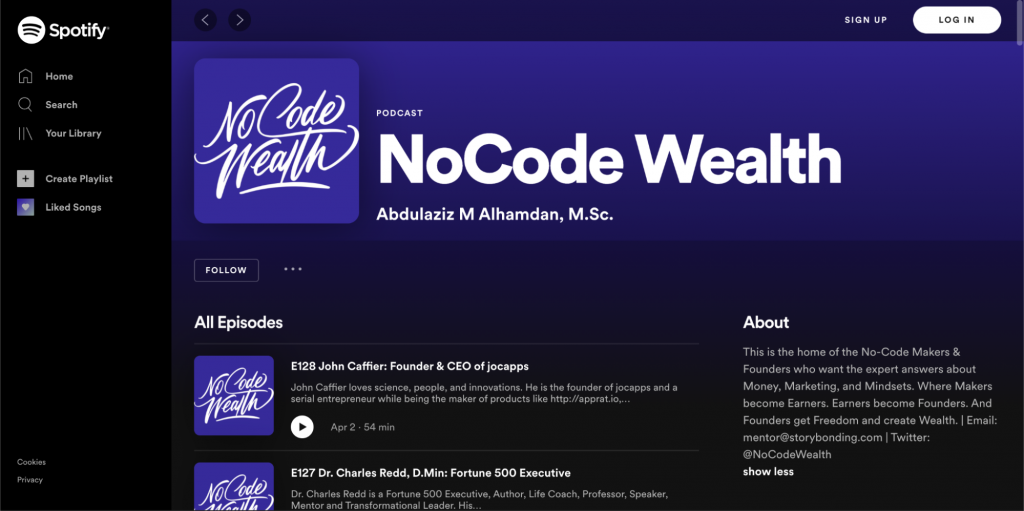 Hosted by: Abdulaziz M Alhamdan
If you aren't a techie, then this podcast is the one for you! Containing 128 episodes each around 45 mins long, No-Code wealth discusses all the other aspects of the industry, i.e. Money, Marketing & Mindsets. In each episode, Abdulaziz talks with Founders/CEOs of prominent companies and is able to provide valuable insights as to what these companies are doing differently to succeed and beat the competition.
The High Tech – Low Code Podcast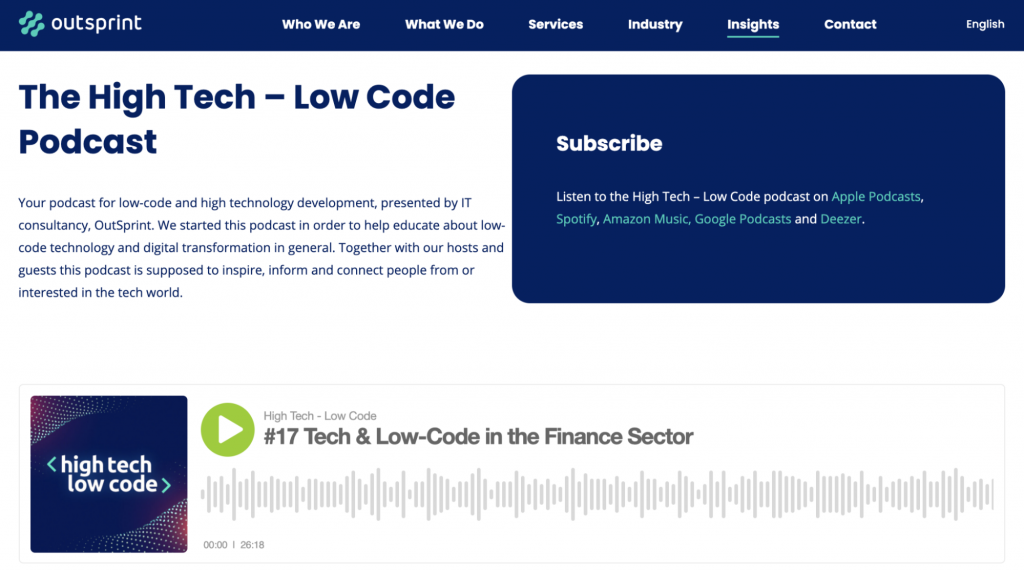 Hosted by: OutSprint
Yet another awesome podcast for you to stay up to date with the happenings in the low-code industry! Their latest series took an interesting approach where they tackled each industry and talked about the state of low-code and tech in that space, which is what made me add them to my list! Their talks are in-depth, informative and a good source to get your weekly fix of low-code news!
Wrapping Up…
This concludes my list of top no-code podcasts I personally love & follow! Needless to say, all of them are amazing and unique in their own way. As the no-code space continues to grow, the number of podcasts, tools, and resources too exponentially grows! If you haven't started your no-code journey yet, better late than never.
Originally published at Medium.
Copyright © Deltecs Infotech Pvt Ltd. All Rights Reserved